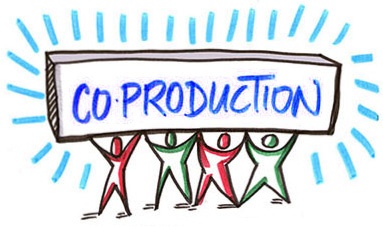 Koprodýkııa (co-production) - birlesken ónim. Atalmysh termın medıına, ekonomıka, qurylys, óner t.b. salalarda qanatyn keń jaıǵan. Máselen, saıasatta alǵash koprodýkııa tujyrymdamasy 1970 jyly amerıkandyq polıtolog-ekonomıst (2009 jyly ekonomıka salasynan Nobel syılyǵynyń laýreaty - avt.esk.) Indıana ýnıversıtetiniń zertteýshisi Elınor Ostrom bastaǵan akademııalyq toppen usynylǵan bolatyn (A.Realpe, L.M.Wallace, 2010:7). Zertteý toby qalalyq qyzmet kórsetý júıesiniń nátıjeli bolýy úshin azamattardyń qoǵamdaǵy belsendiliginiń artýy kerektigin alǵa tartady. Negizgi ıdeıa - qala turǵyndarynyń memlekettik qyzmet kórsetý salasyna jeke dara úles qosa alatyndyǵynda. Mysalǵa, kóshede tóbelesti kóre sala polıııaǵa qońyraý shalý (bul qaladaǵy buzaqylyq áreketteriniń azaıýyna áser etedi - avt.esk.). Demek, halyqtyń áreketi memlekettik mekemelerdiń ónimdiligine áser ete alady (S.Tuurnas, 2016:24). Elınor Ostrom «Crossing the Great Divide: Coproduction, Synergy, and Development» maqalasynda: «Koprodýkııa» termınin «turaqty óndirýshiler» (polıııa men medıına qyzmetkerleri, muǵalimder) qaýypsyz, denderiniń saýlyǵyn qalaıtyn «tutynýshylar» arasynda áleýmettik qarym-qatynastyń bola alatyndyǵyn túsindirý úshin qoldandyq» deıdi (1996:1079). Osyılaısha, Ostrom úkimet pen jeke sektordyń, úkimet pen azamattyq qoǵamnyń arasyndaǵy «úlken alshaqtyqty joıýǵa» umtylady. Kóptegen qoǵamdyq sharalardyń qoǵamdyq, naryqtyq jáne azamattyq úles qosýmen júzege asatyndyǵyn alǵa tartady (E.Ostrom, 1996:1073).
Atalmysh termınniń saıasatta paıda bolý sebebi de 1970 jyldary álemde beleń alǵan «Jańa memlekettik basqarý» reformasymen tyǵys baılanysty. Reformanyń basty maqsaty - memlekettik qyzmetterdiń tıimdiligi men sapasyn arttyrý bolatyn (S.Tuurnas, 2016:26). Biraq reformanyń alǵashqy basqarý tásilderi tek 1990 jyldary ǵana júıege ene bastaıdy. Ulybrıtanııanyń basqarý formasyna engen jańashyldyqtar jahandaný yqpaly áserinen AQSh pen Kanadaǵa áser etpeı qoımaıdy. Keıinnen búkil álemde ákimshildik-qurylymdyq ózgerister beleń alady (Y.Şimşek, 2012:196).
Kıno salasynda «koprodýkııa» - eki nemese odan da kóp memleket óndirýshileriniń birlesip fılm óndirýi. Kınoóndirisiniń bul túrinde óndirýshiler birlesken óndiris jasaý maqsatynda qarjy, óndiristik resýrstaryn biriktirýmen qatar, belgilengen erejelerge saı jumys isteý jaıly sóz baılasyp, kelisim- shart jasasady. (Morawetz, 2008:63; Aluko, 2015). Norbert Moravettiń tujyrymdaýynsha, kıno áleminde koprodýkııanyń paıda bolýynyń basty sebebi jobalardy qarjylandyrý máselesin sheshýmen baılanysty. Keıinnen koprodýkııa quqyqtyq sıpatqa ıe bolyp, óndirýshi elderdiń árqaısysynyń ulttyq ónimi bolyp sanalatyndyqtan, sol eldiń zańyna sáıkes jeńildikterdi paıdalanýǵa quqyly bolatyn (Morawetz, 2008:66). Osylaısha avtor, kıno ónerkásibindegi transshekaralyq yntymaqtastyqta qarjylandyrýdyń mańyzdylyǵy men kıno salasyna memlekettiń aralasýyn mańyzdy eki faktor retinde atap kórsetedi.
Koprodýkııaǵa asa kóńil bóletin Eýropa elderi ekeni anyq. Eýropa kınematografynda koprodýkııa 1950 jyldary bastaý alyp, 1960 jyldary turaqty túrde ósip, 1970-shi jyldardyń sońynda kúrt tómendep, 80-jyldary halyqaralyq birlesken óndiris sany tipti azaıyp ketedi. Degenmen, Eýropa elderi koprodýkııanyń mańyzdylyǵyn jáne birlesken kınofılmder óndirý úshin ortaq quqyqtyq erejelerdi ázirleý qajettiligin túsinedi. Osy maqsatta 1992 jyly Strasbýrgte «Kınematografııalyq koprodýkııa» týraly Eýropalyq konvenııa qabyldanady. Kelisimniń negizgi artyqshylyqtary mynalar: a) talaptardyń ıkemdiligi, jarnalar (tólem - avt.esk.) balansy jáne áriptester arasyndaǵy ózara qarym-qatynastyń ashyqtylyǵy; v) ár túrli jarnalardy baǵalaýǵa arnalǵan baǵamdaý júıesi; s) Eýropa elderi qataryna kirmeıtin óndirýshilerdiń (prodıýser - avt.est.) paıyzdyq mólsheri 30-dan aspaýy, tipti AQSh-tan da; d) ónimniń tili Eýropa Odaǵynyń kez-kelgen eliniń tili bolýy, sol sebepti aǵylshyn tilin de qoldanýǵa bolady (Pardo, 2007:91-92).
M.Pendakýr koprodýkııany negizgi tórt sanatqa bólip qarastyrady. Olar:
osy eldegi memlekettik jáne jeke sektoryndaǵy koprodýkııa;
túrli elderdiń memlekettik jáne jeke sektoryndaǵy koprodýkııa
túrli elderden jeke kapıtaldyq koprodýkııa;
sharttyq koprodýkııa; (Pendakur, 1990:195 )
Bir sózben aıtqanda, avtor koprodýkııany otandyq, halyqaralyq, jeke kapıtal, sharttyq koprodýkııa dep tórtke bóledi. Sharttyq koprodýkııa negizinde AQSh koprodýkııa júıesi jatyr. Sebebi, avtordyń aıtýy boıynsha, AQShta memleket tarapynan naqtylanǵan koprodýkııa jaıly kelisim-shart túri joq. Sol sebepti AQSh aýmaǵynda birlesip qarjylandyrylǵan kez-kelgen ónim koprodýkııa qataryna jatady. «Bul jerde birlesip óndirý (koprodýkııa) men birlesip qarjylandyrý arasyndaǵy aıyrmashylyqty aıqyndap alýymyz kerek. Belgili bir aýdıovızýaldy jobaǵa qarjylaı ǵana kómek kórcetken tulǵa, uıym daıyn ónimniń avtorlyq quqyǵyna ortaqtaspaıdy, demek odan túsken paıdadan úlesin almaıdy. Koprodýkııa bolsa - kelisim-shartpen bekitilgen, ekeýara ortaq quqyqty ıelenýge múmkindik beretin joba» (Morawetz, 2008:64). Mine, osy sebepti de Pendakýr AQSh-tyń koprodýkııa ónimin bólek bir túr retinde qarastyrǵan. Pendakýrdyń Toýson Ýnıversıtetindegi áriptesi professory Pıter Lev te «The Euro-American Cinema» kitabynda eýropalyq jáne eýro-amerıkandyq koprodýkııa arasyndaǵy aıyrmashylyqtarǵa toqtalyp ótedi. Avtor da Pendakýr syndy eýro-amerıkandyq ónimdi koprodýkııanyń jeke túri retinde taldaıdy. Sebebi olar naqty belgilengen úkimettik kelisimdermen bekitilmeıdi jáne ózara sýbsıdııalaý baǵdarlamalaryn qamtymaıdy dep óz dálelderin keltiredi avtor (Lev, 1993:33). Degenmen Germanııa men Soltústik Eýropa elderinde shartty koprodýkııa jasalyp jatady. Kelisim-shartsyz birlesken óndiristiń basty artyqshylyǵy - kelic-sózderdegi erkindiginde. Al, Franııa men Ulybrıtanııa syndy elderde kelisim-shartsyz koprodýkııalyq ónim jasaý tipti múmkin emes (Naarajarvi, 2011-62-63)
Sońǵy jıyrma jyl ishinde Ońtústik Afrıka Respýblıkasy kıno óndirisindegi koprodýkııa ónimine keńinen kóńil bólip, sheteldermen kelisim-sharttarynyń sanyn ulǵaıtýda. Máselegen OFR Kanada (1997), Italııa (2003), Germanııa (2004) jáne Ulybrıtanııa (2007), Franııa (2010), Jańa Zelandııa (2011) jáne Irlandııa (2012) elderimen koprodýkııa yntymaqtastyǵy týraly kelisim-sharttar jasasty. «Ulttyq kıno jáne vıdeo» qorynyń (nfvf.co.za) málimdemesine senetin bolsaq, Ońtústik Afrıka bolashaqta da ulttyq kıno ónerkásibiniń múddesi úshin koprodýkııa negizinde ózge eldermen yntyqtastyǵyn artyrýdy jalǵastyrmaqshy (National film and video foundation). Nelikten? Sebebi halyqaralyq koprodýkııanyń artyqshylyqtary kóp. Atap óter bolsaq, olar:
- Úlken jáne jańa naryq kózi;
- Qarjy resýrstaryn biriktirý múmkindigi;
- Úkimet tarapynan yntalandyrý men sýbsıdııalarǵa qol jetkizý;
- Ónimderdiń sapasyn arttyrý;
- Arnaıy daǵdylarǵa nemese jabdyqtarǵa qol jetkizý;
- Jańa tájirıbe kózi;
- Tıisti quzyrly organdarǵa qol jetkizý;
- Óz elin nasıhattaý;
Búginde koprodýkııa ónimin jasaý men yntyqmaqtastyqty ornatyp, prodıýserlerdiń bir-birine degen senimdiligin arttyrý maqsatynda júzdesý ınstıtýttarynyń paıda bolýy birlesken óndiristiń qurylymdyq ereksheligi bolyp tabylady. Ózara qarym-qatynastardy damytýdyń negizgi lokomotıvi - ónerkásiptik jármeńkeler men kınofestıvalderde uıymdastyrylatyn kásibı jınalystar ekeni aıqyn. Eýropa kınoóndirisindegi eń iri eki kásibı saýda ortalyqtary - Berlın men Kann kınofestıvali aıasynda ótetin Eýropalyq kınofılmder naryǵy (EFM) men Marché du Film.
Marché du Film 12 400den astam salalyq mamandar úshin mańyzdy kezdesý orny bolyp tabylady. Onyń ishinde 3 900 óndirýshiler, 3 300 ónimdi satyp alýshylar men dıstrıbıýtorlar jáne 1 000 festıval uıymdastyrýshylary ózara iskerı múmkindikterin arttyrý múmkindikterine ıe bolady. (Marche du Film). 2017 jylǵy Kann festıvali rekordtyq kórsetkishpen aıaqtaldy delingen festıvaldiń resmı saıtynda. Marche du Film 3 820 fılm usynypty. 1500 fılm kórsetilip, onyń ishinde 710 aıaqtalmaǵan fılmniń aldyn-ala kórsetilimi jasalǵan (Festival De Kannes). Osy syndy koprodýkııalyq sharalar Pýsan, Gonkong, Býenos-Aıres, Parıj, Rotterdamda ótip turady.
Ár memleket koprodýkııa sharttaryn memlekettiń ishki jáne kıno týraly zańyna sáıkes belgileıdi. Máselen kórshiles Qytaı elin alaıyq.
Qytaı alǵashqy koprodýkııalyq seriktestigin 1979 jyly Japonııa prodıýserlerimen bastaǵan (YU, 2017:Oct.27). Búginde Qytaı «Memlekettik baspa jáne basylymdar, radıo, kıno jáne televızııa basqarmasy» (SAPPRFT) belgilegen koprodýkııanyń úsh kategorııasy boıynsha jumys isteıdi. Olar:
Koprodýkııa fılmi (Co-Produced Film) - qytaılyq jáne sheteldik prodıýserdiń birigip shyǵarǵan fılmi. Demek, tolyq mándi (qarjylandyrý, enbek jáne materıaldyq resýrstar, ortaq túsirilim, ıaǵnı fılmniń shyǵyny, paıdasy men táýekeline ortaqtasý) ortaq ónim.
Investıııalyq fılm (Assisted Film) - tolyqtaı sheteldik ınvestordyń qarajatyna qytaılyq prodıýser kómegimen túsirilgen fılm. Bul jaǵdaıda qytaılyq prodıýser (bekitilgen senarıı jelisimen) tek uıymdastyrýshy qyzmetin atqarady. Bul túr fılmder qytaı ónimi bolyp sanalmaıtyndyqtan, ónim otandyq fılmderge jasalatyn jeńildikterdi paıdalana almaıdy, quqyqtyq turǵysynan fılmniń ıesi ınvestor bolyp sanalady.
Kepildendirilgen fılm (Entrusted Film) - bul jaǵdaıda sheteldik tarap qytaılyq óndirýshige fılmdi tolyqtaı prodıýserleý quqyǵyn beredi. Fılm basynan aıaǵyna deıin qytaı kınoóndirisiniń ishki erejeleri men tehnıkalyq talaptaryna saı óndiriledi. Biraq, týyndy tolyqtaı sheteldiktermen qarjylandyrylǵandyqtan, avtorlyq quqyqty da sheteldik tarap ıemdenedi. Bundaı fılmderdi qytaılyqtar ishki naryqtaǵy ımporttyq ónim retinde qarastyrady. Sondyqtar olar Qytaıdyń ishki standarttaryna saı ónidirilgenimen, otandyq fılmderge jasalatyn jeńildikter sanatyna kirmeıdi (China-İnternational Film Co-production handbook, 2-b).
«Qytaı-shetel koprodýkııa fılmderin basqarý» týraly erejelerge saı shetelmen jumys isteıtin qytaılyq ortalyqtar men sheteldik stýdııalar SAPPRFT-tan («Qytaıdyń Memlekettik baspa jáne basylymdar, radıo, kıno jáne televızııa basqarmasy») ruqsatnama alýlary tıis. Ruqsatnamanyń jaramdyq merzimi eki jyl (China-İnternational Film Co-production handbook, 6-7 b). 2016 jyly «Qytaıdyń Memlekettik baspa jáne basylymdar, radıo, kıno jáne televızııa basqarmasy» (SAPPRFT) 89 birlesken óndiriske ruqsatnamalyq kelisimin bergen eken. Bul kórsetkish 2015 jylǵa qaraǵanda 11 paıyzǵa artyq (Schwankert, 2017:Jan 31). Sonymen qatar, qytaılyqtardyń bekitken zańyna saı túsirilim toby men akterlar arasyndaǵy sheteldikterdiń jalpy sany úshten ekini aspaýy kerek. Erejege saı fılmniń óńdeý kezeńi de (post production) Qytaı shekarasynda ótýi shart. Óndelgen daıyn fılmdi SAPPRFT bekitedi. Bekitilgen fılmge ózgerister engizý úshin de SAPPRFT-tan ruqsat alý kerek. Mine osyndaı júıemen Qytaı koprodýkııa júıesi jumys isteıdi.
Qoryta kele, osy maqala aıasynda koprodýkııa uǵymymen, onyń túrleri jáne kórshiles Qytaı eliniń koprodýkııa júıesimen tanys boldyq. Koprodýkııa - álemdik tájirıbede óz-ózin dáleldegen kınoóndirisiniń bir túri. Qazaqstannyń kınonaryǵynda ázirge memleket pen jeke sektor, ıaǵnı otandyq koprodýkııa túri jumys isteýde. Bul kóbine telearnalar men jeke stýdııalar, «Qazaqfılm» men jeke stýdııalar arasynda júzege asýda. Sebebi, ázirge otandyq kınoprodıýserlerimiz ishki naryq úshin eńbek etýde. Keleshekte bizde de koprodýkııanyń ózge de túrleri damıdy degen úmitimiz zor.
Qoldanylǵan materıaldar:
Schwankert S., «2016 Sets Record for Co-Production Permits in China», 2017,JAN 31, http://chinafilminsider.com/2016-sets-record-co-production-permits-china/
Festival De Kannes,http://www.festival-cannes.com/fr/festival/
Lev P., «The Euro-Amerikan sinema», Universiti of Texas Press, 1993, pp.161
Morawetz N., «The rise of co-productions in the film industry»; Submitted in partial fulfillment of the requirements of the University of Hertfordshire for the degree of Doctor of Philosophy, 2008, pp.219
Marche du Film, http://www.marchedufilm.com/fr/
Naarajarvi P., «International Co-Production and Collaborative Agreements, the Case of the Finnish Film Industry», Aalto University School of Economics, Doctoral dissertations, 2011-pp.165
National film and video foundation http://www.nfvf.co.za/home/index.php?ipkContentID=42.
Ostrom E., «Crossing the Great Divide: Coproduction, Synergy, and Development», World Development, Vol.24.No 6. 1996- pp.1073-1087
Pardo A., «Spanish co-production: commercıal need or common culture?» (An analysis of international co-productions in Spain from 2000 to 2004 ), Newcastle: Cambridge Scholar Publishing, 2007, pp. 89-127.
Pendakur M., «Canadian Dreams and American Control: The Political Economy of the Canadian Film Industry», Wayne State University Press, Detroit, 1990, pp. 321
Realpe A., Wallace L.M., «What is co-production?», Health Foundation, London,  2010- pp.18.
Şimşek Y., «Kamu  işletmeciliği reformu:  İngiltere, Kanada ve ABD'de kamu işletmeciliğine geçiş», Türk İdare Dergisi, 2012 - s.474
Tuurnas S., «The professional side of co-production», Tampere University Press 2016-pp.179.
Yu M., «International Co-production of Chinese Documentary Development», 2017, OCT.27, http://chinafilminsider.com/international-co-production-of-chinese-documentary-development/